Self Publishing recent titles
Samuel Thomas WHYTE O.A.M.
A Biography
by Patricia Rogerson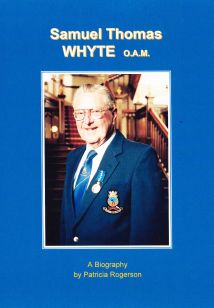 This biography of the author's father was compiled from his many notes and articles written about his life experiences - growing up in the Depression years, his personal recollections of World War II, his interest in naval history and restored cars, his experiences as a commercial traveller, his love of family and his award of the Order of Australia Medal for services to ex-Service personnel and their families.
HMAS Warramunga played a significant part in Sam's life. He served on this ship during World War II; he researched and wrote its history, helped established the Warramunga Veterans' Association and organised Warramunga reunions all over Australia.
ISBN 978-0-992 340919

Published privately in 2014. 105 pages, with photographs.

Enquiries: Contact Us via the Contacts link

All enquiries are referred to the author.