Self Publishing recent titles
MY STORY
by Noelene Whyte
A Memoir written by her daughter, Patricia Rogerson from stories her mother told over many years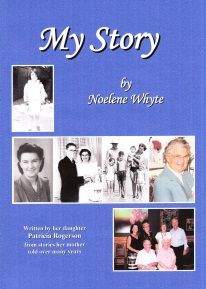 A memoir published in 2012 to celebrate Noelene's 90th birthday. In Noelene's words:
"I was born on Christmas Day 1922 in Campsie, NSW, Australia - 90 years ago. The world has changed dramatically throughout my lifetime.
"I remember growing up without refrigeration, washing machines, supermarkets, television, mobile phones or email. Most leisure activities were free - with a packed lunch, a swimming costume, or a sturdy pair of walking shoes, an enjoyable day was guaranteed. Simple pleasures like singing kept us entertained.
"Wonderful family and friends continue to be an important part of my life, and in this book, as I step back in time, I share some of my memories."
Published privately in 2012 for the family
60 pages, with many photographs and some family charts.

Price: $30.00

Enquiries: Contact Us via the Contacts link

All enquiries are referred to the author.