Self Publishing recent titles
TED & IRENE WESLEY
Their Story
Their Ancestors & Descendants
A Family history
Researched and written for their daughters and descendants by Margaret Szalay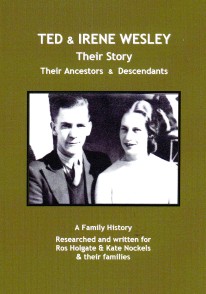 This family history was researched on behalf of Ros Holgate and Kate Nockels, the daughters of Ted and Irene Wesley, and published privately for their descendants.
Both Ted and Irene grew up in Northern Tasmania where their ancestors had settled in the 1800s, some arriving as free settlers, others as convicts.
Family names include: Barrett, Harris, Keefe, Langdon, Long, Maxwell, Meehan, Nutting, Ogilvie, Russen, Wesley, Weymouth, and Wright.
This story has been printed in limited numbers for distribution only within the family. Enquiries will be forwarded to the family for their response.
184 pages, with many portraits, family charts and other images. Bibliography.

Printed in Paperback in 2011 - Price $40.00

Enquiries: Contact Us via the Contacts link above