Self Publishing recent titles
FERMANAGH TO WATTAMOLLA
150 Years of Farming at Wattamolla,
Berry, New South Wales
by George Stathers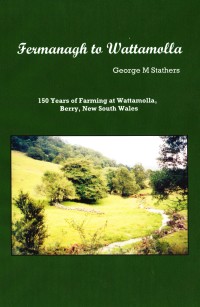 The story of Old "Mountain View", a heritage-listed farm amid Deodara Cedars, in the Shoalhaven area of NSW, a region which has a colourful history associated with the Irish diaspora of the 1800s.This book records the 150-year heritage of this small farm in the Wattamolla valley near Berry and other pioneer families to the area.
The original pioneers, Freeborns and Walkers, were from Co. Fermanagh, Ireland. Their descendants in turn have made significant contributions to Australian life. The author and his wife have attempted to preserve this heritage over a 30-year period. The book seeks to fulfil Grace Karskens' ideal of maintaining "A historic consciousness of Place".
The Shoalhaven Council have heritage-listed "Mountain View" and its Deodara Cedars
A story of this early settlement of south coast of NSW, published in November 2010.
84 pages, with photographs in full colour

Paperback - Price $30.00

Enquiries: gmsclla@bigpond.net.au OR Contact Us via the Contacts link