Self Publishing recent titles
The Uncles
The Story of the Heyde Brothers German migrants to Western Australia in the early 1900's
by Margaret Bowering
Winner, Fiction Prize, Woollahra Writers Festival - Local Writers Competition 2012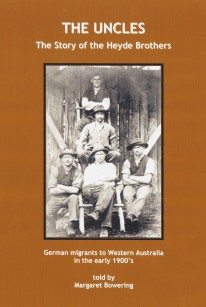 This biography of the five Heyde brothers arose from the author's frequent visits to the beautiful farm that they pioneered near Manjimup in Western Australia. She meticulously researched their lives, obtaining interviews, information and photographs from many of the Heyde descendants in Germany as well as descendants of former neighbours in Manjimup.
Their story is movingly told through the voice of a now elderly relative of the family, a composite figure representing the views of those left behind in Germany - a relative who, throughout her life in Germany, lived with the stories of these uncles. Excerpts from their letters home and the photographs, provided by the Heyde family, bring their story to life.
Set against the history of the times, we share their struggle to succeed, their internment during the War, and the impact of social prejudice, heightened by two World Wars with their native Germany, to which they still felt a strong allegiance.
All five brothers died unmarried.
114 pages, with many portraits and other images. Bibliography.

Printed in Paperback in 2011 - Price $30.00

Enquiries: Contact Us via the Contacts link above