Self Publishing recent titles
THE WORLD THE WAY IT IS
An Autobiography
by Stephen J. Takacs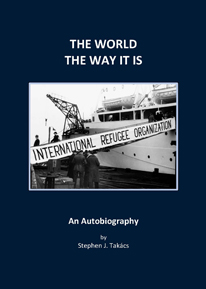 Stephen's story of leaving Hungary in 1956 after the Revolution, living as a refugee in Austria, before immigrating to Australia, then his life in Australia with its trials and tribulations, and his marriage and family.
Published in paperback in 2017 in limited numbers for the family. 250 pages.

Enquiries: Contact Us via the Contacts link. All enquiries are referred to the author.