Self Publishing recent titles
STATHERS FAMILY STORY
A History
by George Meredith Stathers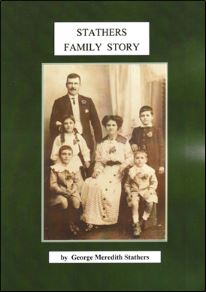 This family history tells the stories, heritage and history of the Stathers and related families, Meredith, Crump & Harris, a journey of 260 years – from their origins in Hornsea, Yorkshire and Hornsey in Hereford in England, where over time they were village blacksmith, farm labourer, pauper, and farmer, until their migration to Australia in 1915.
This account of the Stathers family is a series of personal stories, recording the life events of ordinary people living in a background of changing social circumstances.
SURNAMES include: Crump, Harris, Meredith, Pirchan, Stathers.
The author has published two earlier works: "A Woven Tale" in 2004, and "Fermanagh to Wattamolla" in 2010. As a retired Geriatrician, the author published "Wellbeing in Aging" in 2017.
ISBN: 978-0-9756801-2-4

Published in 2015

170 pages, with colour photographs and family charts.

Paperback - Price $30.00

Enquiries: Contact Us via the Contacts link

All enquiries are referred to the editors.