Self Publishing recent titles
So Ends This Day
Memoir of a Seaman
by John Wesley Spiers, AM PhD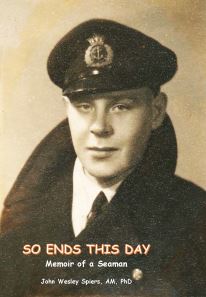 John's career in shipping began in the British Merchant Navy in World War II carrying cargoes to most theatres of the War, continuing thereafter as a Senior Officer and Captain in cargo ships and tankers; he later met his wife June while serving in passenger liners.
After his arrival in Australia John worked for the Federal Government for several years before entering the private sector where he became the CEO of Associated Steamships, a prominent Australian shipping company. In this role he chaired several shipping industry committees, served on two Government Task Forces and represented Australia on the Committee of the International Shipowners' Federation, including three years as a Vice- President.
When John retired he received the award of Member of the Order of Australia in the General Division for "service to the Transport Industry particularly shipping." He returned to study late in life and in 2006, at the age of 80, was awarded the degree of Doctor of Philosophy in Economics from The University of Sydney for his research into the Australian shipping industry.
Published privately in paperback in 2015. 230 pages, with photographs.

Price: $35.00 plus P&P within Australia

Enquiries: Contact Us via the Contacts link

All enquiries are referred to the author.