Self Publishing recent titles
SIRT
Scientists In Reproductive Technology
A History & Recollections of the First 20 Years
John P P Tyler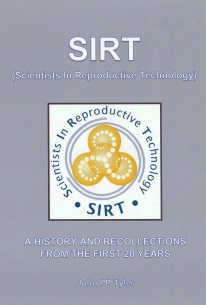 Since IVF became established in Australia over 30 years ago scientists have been an integral part of the clinical team. They have regularly met, often informally, to exchange ideas and discuss ways of improving their systems to offer better outcomes for patients.
However it wasn't until a decade after the birth of the first IVF baby in Australia that, under the auspices of the Fertility Society of Australia, a formalised group was formed calling itself Scientists In Reproductive Technology, or to use the easier acronym, SIRT.
This short monograph charts the history of this group over its first two decades demonstrating the consummate professionalism of its members in the work they perform but also their ability to be human.
ISBN: 978-0-646-93493-8

Published in 2015. 90 pages, with colour photographs.

Price: $30.00 plus P&P within Australia

Enquiries: Contact Us via the Contacts link

All enquiries are referred to the author.