Self Publishing recent titles
Sadler Family Stories
Family History and other writings
from Alick A. Sadler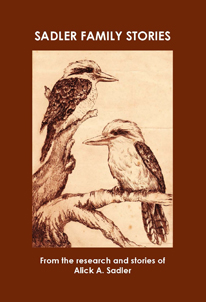 The family history and stories of the Sadler family, were researched and written by Alick Sadler, and published posthumously in 2016 by his niece, Beverley Stewart, together with a collection of Alick's recollections and other writings.
This book tells the story of Caleb Sadler (c1811-1849), a convict from Colchester, Essex, transported to NSW on the "Countess of Harcourt" in 1828, and his wife, Letitia Blair, who arrived as an "unmarried female immigrant" from County Tyrone, Ireland in 1839. They later lived in Wollombi, NSW. Caleb's wife is later recorded on his children's certificates as Mary McCammon from Tyrone.
Alick records details of their children and descendants marrying into the families of BARNES, BLACKMAN, BRIDGE, DOOLAN, WOMERSLEY and more listed in the family tree.
Published privately in paperback in 2016. 90 pages, with photographs and family trees.

Price: $40.00 plus P&P

Enquiries: Contact Us via the Contacts link

All enquiries are referred to the editor.