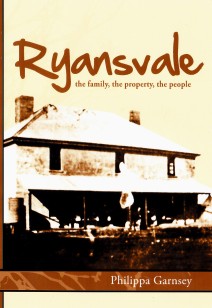 Ryansvale was a property established by three Irish convicts, James, John and Michael Ryan, in the early 1830s and owned by Michael's descendants until 1911. The property was located south of Goulburn, NSW, on the Braidwood Road. Located on Ryansvale was a small village where the Ryans, and their employees and families lived. A house was built in the early 1840s as well as a large church. A cemetery was established next to the church, and church and cemetery served the Irish Catholic families who lived in the surrounding districts.
The book researches the Ryan family and their descendants in Australia. Over 100 people are thought to have been buried in the cemetery and this book includes a list of the known burials, biographical details of those identified as living at Ryansvale and details of the convicts known to have worked on the property.
Related Family names include: Alderdice, Bennett, Bowe, Bourke/Burke, Butler, Carroll, Challacombe, Garnsey, McKeough, McLaurin, Neville, Parker, Purcell, Ryan, Shanahan, Smith, Taylor, Toohey, Watling.
Other Families living at Ryansvale: Allen, Anderson, Barnes, Barrell, Bollard, Boyes, Brown, Cantfield/ Cantwell, Carey, Carney, Casey, Clowry/Cloury, Connor, Coughlan, Crossey/Crossie, Dailey, Dargan, Davis, Davoren, Deane, Dinsmore, Driscoll, Duggan, Dunphy, Fry, Green, Gulliver, Halloran, Hand, Hilfred, Horan, Ireland, Keenan, Keens/Kane, Kelly, Kennedy, Lacey, Lamon, Lawler, Lehane, Looby/Loobey, Lowe, Lynch, Lyons, Madigan, Manton, Masagorie, May, McCabe, McLoughlin/McLaughlin, McNamara, Moore, Moriarty, Mullins, Murphy, Nettleton, Nolan/Nowlan, Noonan/Nunan, O'Brien, O'Connor/Connor, Paton, Phelps, Pluck, Riley, Ryan, Schoons, Seary, Sheather, Sheppard, Silk, Siggs, Slooper, Smith, Sullivan, Taylor, Tully, Wagdon, Wallace, Walsh, Weeks, Welsh, Williams, Wilson, Wood, Woods, Young.
Published in Paperback in 2011. Reprinted with changes in 2016.

207 pages, with portraits, maps and family trees. Bibliography & Index.

Price $35.00

Enquiries: Contact Us via the Contacts link above

All enquiries are referred to the author.