Self Publishing recent titles
RAMBLERS AT 50
A History of the Newcastle Ramblers Bushwalking Club in pictures
A photographic celebration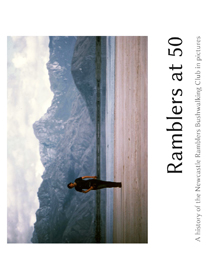 This album displays more than 196 photographs, taken by over 30 of the Club photographers, a celebration of the Newcastle Ramblers, founded in 1961, and of the places and people who form the collective memory of the past 50 years of the Club.
ISBN: 13 978-0-646-94184-4

Published in 2015. 54 pages of photographs.

Price: $25.00 plus P&P within Australia

Enquiries: Contact Us via the Contacts link

All enquiries are referred to the author.