Self Publishing recent titles
WILLIAM PURCELL
Carpenter HMS Bounty
Carpenter HMS Bounty
A biography and history by Philippa Garnsey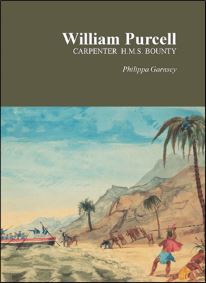 William Purcell was the carpenter on HMS Bounty at the time of the famous mutiny in 1789.
Purcell chose to go in the Bounty launch with 18 other loyalists including Captain William Bligh. During the voyages of the Bounty and the Bounty launch, Purcell had had a difficult relationship with Bligh.
On Purcell's return to England, he was the only loyalist to be court-martialled. In the charges Bligh laid against Purcell, Bligh wrote that he "had behaved with great impertinence, disrespectfull, and in such a general reprehensible manner".
Bligh had become incensed during the voyage of the launch when, on Sunday Island on the north east coast of Australia, Purcell told him that he was as good a man as he.
Purcell's family had been working in the Woolwich and Deptford dockyards, Kent from as early as 1695 as shipwrights. After his court martial in 1790 Purcell remained in the Royal Navy as a ship's carpenter and a shipwright. He had a family of nine children six surviving to adulthood. Two of his children came to Australia in 1839 and 1841 and have numerous descendants.
This book provides an evaluation of Purcell using the primary sources available which recount the voyages of the Bounty and the Bounty launch.
Published in 2015. 204 pages, with photographs and family charts

Price: $35.00 plus P&P within Australia

Enquiries: Contact Us via the Contacts link

All enquiries are referred to the author.