Self Publishing recent titles
YARNS and THREADS
A gathering of stories of a lifetime
by Elaine Elizabeth Polglase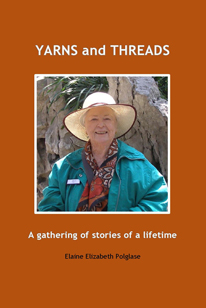 A memoir with stories of the Japanese raids on Sydney during WW2, her travels from the 1950s to Europe, Australia, Papua New Guinea, USA, her years in New Zealand working as an Air Traffic Controller, travels to view solar eclipses around the world, safaris in Africa, bear chasing in the Canadian tundra and the Arctic, a career in personnel and OHS management with CSR, and working with children in the Far West Children's Home at Manly.
Published privately in 2016. 89 pages, with photographs

Enquiries: Contact Us via the Contacts link

All enquiries are referred to the author.