Self Publishing recent titles
THE DAY/ O'DAY FAMILY IN EASTERN AUSTRALIA
A Family History - from the research of Shirley Custance, written by Margaret Szalay
Published in 2009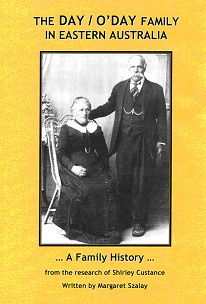 This family history tells the story of Samuel Day / O'Day (1838?-1938) and his wife, Mary Ward (1857-1940) (pictured on the front cover), and their descendants, as well as the family origins as known. Samuel was born in Bothwell, Tasmania and he married Mary in Melbourne in 1872. They had 14 children, 7 recorded with the name DAY and 7 as O'DAY, although they used both names at will. The family lived in Victoria: in Eddington in the Ballarat-Bendigo goldfields and later in Gippsland, where they had grazing property at Darriman, south of Sale.
Their descendants now live predominantly in Victoria and NSW. Their daughters married into these surnames: BOURKE, FIELD, GREENING, LAWSON.
This family history was written in 2009 on behalf of Shirley Custance (née DAY)(1927-2015) to ensure that her decades of research into the DAY/O'DAY and related families are recorded in a permanent form as her legacy to the family. Contributions, stories and photos, were sought from other descendants and are acknowledged in the book. Other family names in Victoria & NSW include ALLEN, GRATION, McDOUGALL, MEREDITH, OWENS, POWELL, WARD, and more.
B1.

Samuel DAY (1872-1958)
married Ada JOHANSEN (3 children)

B2.

George Herbert DAY** (1874-1910) –
married Minnie POWELL (5 children)

B3.

Albert Joseph DAY (1877-1973) –
married Elizabeth CONSIDINE (Children unknown)

B4.

John DAY/ O'DAY (1878-………) – no information

B5.

Mary Anne Josephine DAY (1880-1970) –
married Alexander Miller LAWSON (2 surviving children)

B6.

Margaret/Sarah Jane DAY (1882-1972) –
married Frederick James FIELD (4 children)

B7.

William Henry DAY (1885-1889) died aged 4 yrs .

B8.

Joseph O'DAY (1887-………) – no information

B9.

Michael Herbert O'DAY (1890-………) – no information

B10.

James Robert O'DAY (1892-1917) died in Belgium

B11.

Maude Louisa Dorothy O'DAY/ DAY (1893-1982) –
married Leslie Wretham GREENING (2 children)

B12.

Leslie Ernest O'DAY / DAY (1895-1962) –
married Margaret YANNAN (children unknown)

B13.

Annie Georgina Victoria O'DAY (1897-1933) –
married Robert BOURKE in 1918 (1 known child)

B14.

Myrtle Wilhelmina O'DAY (1899-1980) – unmarried
** George Herbert Day is Shirley's grandfather.
160 pages, with ~150 portraits, maps & other images - FULLY INDEXED
Available for family researchers
RRP $25.00 (+ P&P)

Copies are atill available from Cremorne1.com

Email via the Contact link)