Self Publishing recent titles
JOURNEY OF NO RETURN
A Memoire by Mehri Yeganeh Jahromi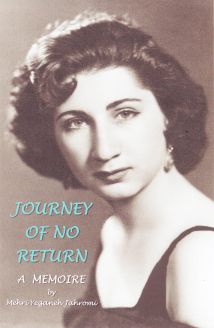 Recollections of life in Iran from 1933 until 1981 - life under the Pahlavi Shahs, 'the Golden Era'; during World War II when the country was occupied by both the British and the Russians; and ultimately the aftermath of the Revolution of 1978-79 when the Shah was removed and replaced with a fundamentalist Islamic regime under the Ayatollah Khomeini, leading to the family's forced decision to leave Iran.
This book was written for her grandchildren to answer their many questions about where their family came from and how she escaped from Iran after the Revolution of September 1978 to start a new life in Australia.
Published privately in 2014. 106 pages, with photographs.

Price: $25.00 plus P&P within Australia

Enquiries: Contact Us via the Contacts link

All enquiries are referred to the author.