Self Publishing recent titles
THE McGRORY FAMILY IN QUEENSLAND – A Family History
by Terence James McGrory
f
Highly Commended - 2010 QFHS Family History Book Award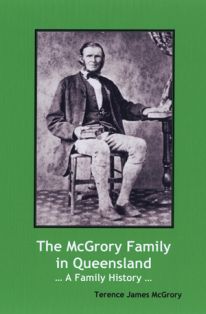 This family history tells the story of Arthur McGrory and his wife, Elizabeth Anderson, Irish immigrants from Pettigo, in County Fermanagh, who were among Queensland's Pre-Separation Pioneers, settling in Ipswich, west of Brisbane, in 1852, with 7 of their children, together with their Kerrigan son-in-law, and a grandchild. They were later joined by their eldest daughter and her McGoldrick family who had initially immigrated to Victoria. Other daughters married into the Clements, McLean and O'Sullivan families in Queensland. The book includes many family portraits, the known family stories, as told by their descendants, with family trees for the McGrory, Moloney, Cuthbert, Clarey, Heffer(n)an and McLean families, plus Appendices of other relevant information. Pre-Separation Pioneers will be remembered in 2009 with the 150th anniversary of Queensland's Separation from NSW in 1859.
260 pages, with over 360 portraits, maps and other images.
FULLY INDEXED
This family history was written in collaboration with Margaret Szalay, who coordinated the collection of the family history material and photographs, and the preparation of the manuscript.
Paperback price: $35.00 (plus $12.00 P&P)

Hardcover price: $55.00 (plus $12.00 P&P)

Copies available through

Margaret Szalay
PO Box 305
Cremorne NSW 2090
(Email via the Contact link)