Self Publishing recent titles
FROM GLENQUAICH TO NEW SOUTH WALES
The Story of John McGregor, His Forebears and Their Descendants
by Julia R Kable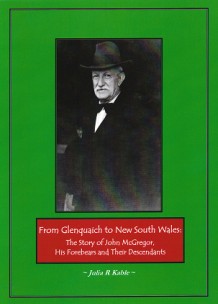 John McGregor was a locomotive engineer who emigrated from Scotland to Australia with his young family in 1883. He accompanied and installed engineering equipment at the Pioneer Sugar Plantation, near Ayr, Queensland, before moving to New South Wales where he joined the New South Wales Railways.
Like so many immigrants, he left only the barest details about his parents and his life in Scotland. The primary objective of this small book has been to gain a greater understanding of the man, his life, the family he left behind, and to explore the Scottish heritage of his descendants.
Family names include: Anderson, Blackwell, Brickley, Brinkley, Bruce, Campbell, Dow, Drysdale, Gardiner, Haffenden/Heffenden, Irving, Kable, lee, McFarlane, Maxwell, Menzies, Munro, Neilson, Pender, Russell, Scott, Seright, Shemaker, Stewart, Turnbull, Urban, Walker, Young.
This family history was published privately for descendants of the McGregor family

Published in Paperback in 2011

80 pages with portraits, maps, family trees. Name Index.

Price $22.00

Enquiries: Contact Us via the Contacts link above

All enquiries are referred to the author.