Self Publishing recent titles
SUMMER HILL AND BEYOND
The Family of Felix McCann and Mary Cooper in Australia
Part 3 - 1883-2016
by Judith Freckman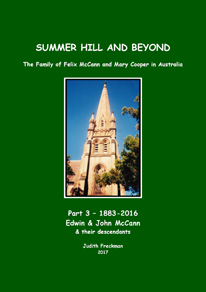 In early 19th century England Felix McCann, believed to be from Armagh in Ireland, married Mary Cooper of Glossop in Derbyshire. They had two sons, John and Edwin, but only John, their older son survived. Their story was told in Parts 1 and 2 "From a Glossop Mill to Summer Hill" (2000).
Part 3 (1883-2016) tells the stories of John's sons, Edwin and John (II) McCann and their descendants in Australia.
In the 1880s, two of John McCann's sons, Edwin and John (II) migrated to Sydney, Australia. After first settling down in Summer Hill in the Municipality of Ashfield and later in Marrickville and Dulwich Hill, the two families raised ten children between them.
Family names in Australia include: Powe, Watson, Bradley, Holmes, Gardiner, Dixson, Waddell, Davidson, Kelsey, Steele, Freedman; Horan, Freckmann, Armstrong, Rowe, Moran, Collingridge, Parkinson, Priest, Hitchcock, Richards, Hewitt, McEwan, Ruckley, Lockley, Betterridge, Cunningham, Simpson, Barrois de Sauvigny.
Published privately in paperback in 2017. 174 pages, with family portraits, Bibliography & Index.

Enquiries: Contact Us via the Contacts link

All enquiries are referred to the author.