Self Publishing recent titles
GRANDMA AND ME
A Memoir of my Life living with Mary Irene Yates (nee Griffiths)
by Louise Lynas (nee Yates)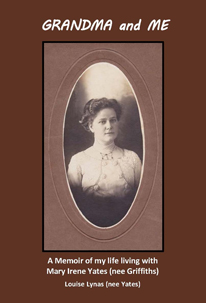 Memories and family stories of the author's grandmother, Mary Irene Yates (nee Griffiths) (1890-1961) and her family.
Includes stories of her Griffiths & Yates families, growing up in Charters Towers in North Queensland, and attending SCEGGS in Sydney in the early 1900s.
Published in paperback in 2017 in limited numbers for the family. 85 pages, with images & a family tree.

Enquiries: Contact Us via the Contacts link. All enquiries are referred to the author.