Self Publishing recent titles
Kiandra - Gold Fields to Ski Fields
The history of the World's oldest Ski Club - Published 2006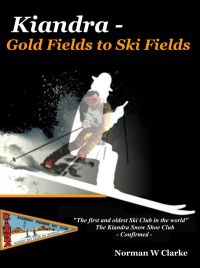 At the start of the 20th century, only a handful of ski clubs existed anywhere in the world. Then, within a few short years, turmoil throughout Europe virtually stopped all ski sports for the next three and a half decades.
Three Norwegians had sought their fortunes on Kiandra Gold Fields in 1860. Gold did not make their fame but their contribution to sport did. There can be very little doubt that, had these men not ventured to our shores, skiing as a recreation would not have developed in Australia until the universal appetite for the sport took hold after the Second World War.
The first and oldest Ski Club in the world was the Kiandra Snow Shoe Club, now known as the Kiandra Pioneer Ski Club (1870) Ltd, with its early directors including Banjo Paterson, Charles Kerry, Lord Beauchamp (NSW Governor) and Sir William Lyne (a Premier of NSW).
This story commences with the first snow shoe riders in the Southern Hemisphere and concludes with their descendants and other club members today.
187 pages in Hardcover. Published by KPSC in 2006 through CREMORNE1.COM Self Publishing.
Price $24.95 ($20.00 to KPSC members) + P&Postage

A CD of images is also available to members.

Copies available through

Norman Clarke - seaklark05@yahoo.com.au
Maurice Carter - mgcarter@ozemail.com.au