Self Publishing recent titles
THE FAMILIES OF JACOB
in England, Ireland and Australia
Family Histories updated by Malcolm (Mac) Jacob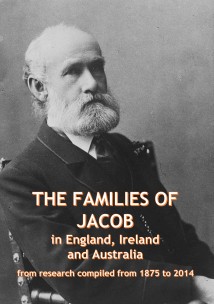 This family history incorporates:
The history of the original Families of Jacob in England and Ireland, published by Dr. A.H. Jacob of Dublin in 1875 - with portraits added.
The history of the Jacob family of Maitland and Raymond Terrace NSW, descendants of Vickers Jacob who settled in the Colony of New South Wales from the early 1800s, researched and published privately by Frank Birbeck Jacob in 1956.
Next Generations in Australia - additional information, charts and photographs added by Malcolm (Mac) Jacob in 2014.
These Jacob family stories and charts were collected and published privately, updated with additional information, covering 18 generations of his family, by descendant, Malcolm (Mac) Jacob.
Published privately in 2014. 216 pages, with photographs (some colour), charts and maps.

Enquiries: Contact Us via the Contacts link

All enquiries are referred to the author.