Self Publishing recent titles
DAVID & GILLIAN ILES and our Ancestors
A Memoir & Family History
by Gillian Iles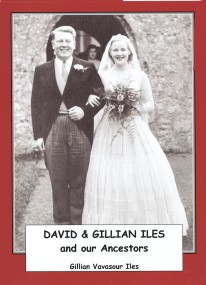 This is Gillian's and David's story, their childhoods growing up in England, the impact of the Second World War, their marriage and immigration to Australia.
It is also the story of their ancestors: their parents, grandparents, and earlier ancestors meticulously researched by Gillian over many years.
Family names researched include:
David's: DePEARE, ILES, PHILLIPS, STEPHENS
Gillian's: WALKER, LOCKER, ARMITAGE, BROWN, DOUGLAS, CLEASBY, SLINGER, HUXHAM, RAINFORTH, TOZER, VAVASOUR (Devon).
This book was published privately for the family.
142 pages of stories, photographs and family trees

Manuscript prepared and self-published in 2011 through CREMORNE1.COM

Paperback - Price $25.00 (UK £15.00) + P&P

Enquiries: Contact Us via the Contacts link above