Self Publishing recent titles
AUSTRALIA'S CARPETBAGGERS
The Australian Trade Commissioner Service
1933 - 1986 - A Directory
compiled by Peter B. Horne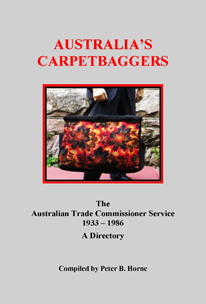 A directory of Australia's International Trade Posts and the personnel of the Australian Trade Commissioner Service who represented Australia's commercial interests around the world between 1933 and 1986 in the roles of Trade Commissioners, Trade Officers, Trade Secretaries & their support staff, listed alphabetically.
ISBN: 978-0-646-97451-4

Published in paperback in 2017. 350 pages, with photographs

Price on application.

Enquiries: Contact Us via the Contacts link

All sales of this book are handled by CREMORNE1.COM on behalf of the author.