Self Publishing recent titles
FRANK
The Life and Times of Normand Frank Hinde
by Gillian Napper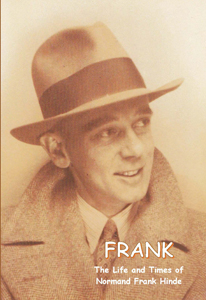 A biography of Normand Frank Hinde (1915-2012), published by his daughter, Gillian, based on her father's recollections in his later years and memories of family members. Frank had a lifelong career with the Commonwealth Bank, interrupted by service as a Lieutenant in WW2.
Published privately in 2016 for the family. 36 pages, with photographs.

Enquiries: Contact Us via the Contacts link

All enquiries are referred to the author.