Self Publishing recent titles
GRAFTON TO THE GRAVEYARD – The O'Keeffe Families in Australia
by Harold R. J. O'Keeffe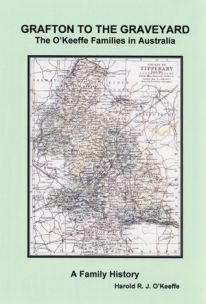 From the Irish Counties of Tipperary, Cork, Clare and Limerick to New South Wales, Australia, this family history follows the trials, mysteries and achievements of the two principal families.
Harold O'Keeffe tracks his and his wife's family forebears, including the O'Keeffe, O'Gorman, Harley, Stewart, Stuart, Connolly and Diggs families, from the late 1700's in Ireland and Scotland to the twenty-first century in Australia. His own colourful journey moves from the small NSW North Coast town of Grafton, to the largest cemetery in the Southern Hemisphere.
Explore the circumstances of the families' missing members.
Trace the connections between two separate families across two countries and three centuries – coincidence or destiny?
Enjoy the stories of these daring families as they go about their everyday lives, sometimes through hardship and adversity, but with courage, hope and faith in the future. The younger generations hopefully may be inspired to continue his work.
INDEXED
254 pages in Paperback
Published in 2008
Price: $35.00

Available from:

Harold O'Keeffe
Tel: (+61) 2 9642 5579
Or Email via the Contact link