Self Publishing recent titles
EXILES AND EMIGRANTS
From Ireland to Tasmania
Gleeson, Moloughney, Weeks & Harris families
by Yvonne M. Harris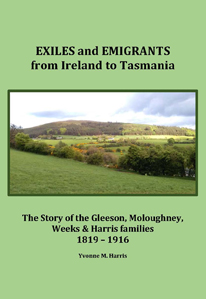 The family story of the Gleeson, Moloughney, Weeks and Harris families and their journey from Ireland to Tasmania has been meticulously researched and written by descendant, Yvonne Harris.
The story takes us into the turbulent political situation in Ireland in the 1840's and the disastrous potato famine which occurred in the last years of the decade. Thousands of Irish men and women were transported across the seas to Britain's penal colony in Van Diemen's Land and thousands more emigrated. Exiles and Emigrants is an account of the experiences of some of these men and women, bond and free, in the new land.
The author describes the hardships and tragedies they endured during the early years in the penal colony. Following the cessation of transportation to the island in 1853, they were able, with courage and determination, to establish successful lives as Tasmania emerged into a free society
ISBN: 978-0-646-95586-5

Published in 2016 with 537 pages, a family chart and family photographs. Bibliography

Price: $35.00 plus P&P within Australia

Enquiries: Contact Us via the Contacts link

All enquiries are referred to the author.