Self Publishing recent titles
The Girl in the Picture
A Novel for young readers
by Donna Gibbs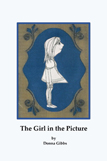 It is the long school holidays and Sarah is lonely and bored. When visiting her great gran, she is drawn to a girl in a picture hanging on her wall that she's never noticed before. To her surprise, the girl steps right out of the picture frame. Emily is everything Sarah isn't - strong minded, adventurous, and wilful. And then ... well, you'll have to read the story to find out what happens!
ISBN:978-1-4478-2724-5

Published in 2016. 54 pages

www.donnagibbsbooks.com

All enquiries are referred to the author.