Self Publishing recent titles
Charles Purcell and Jane Turpin Reynolds & their descendants
A Family History
by Philippa Garnsey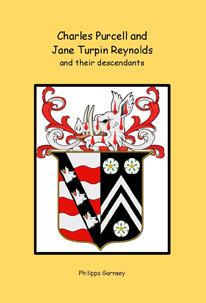 Charles Purcell and his wife Jane Turpin Reynolds arrived in Australia in 1841 and eventually settled in the Adelong district of New South Wales. Charles had tried several different occupations before purchasing land at Wondalga in 1866.
Following his arrival, Charles had worked as a master mariner (ship's captain) he had fitted out a ship on the Macleay River and he kept general stores at Ulladulla and Bowning. He also tried to earn his living as a gold miner.
The couple had six children, 41 grandchildren and their direct descendants total well over 700. This book provides information on many of those descendants. Various family members have contributed short stories of their ancestors in addition to providing accompanying photos.
Family names of descendants include: ALLDIS, BENSON, BINGEL, BOSTON, CABBAN, CARPENTER, DICKINSON, DOWSETT, FAHEY, FOXLEE, FORD, FRIEND, GARLICK, HAZARD, HUMPHREYS, MARSHALL, McCLELLAND, McPHERSON, O'SULLIVAN, PROWSE, PURCELL, QUINNELLL, REYNOLDS, ROE, STEPHENSON, TATTON, THOMPSON, WELSH, WHATMAN, WOODWARD.
Published privately in paperback in 2016. 188 pages, with family stories, charts and photographs. Indexed

Price: $24.00 plus P&P

Enquiries: Contact Us via the Contacts link

All enquiries are referred to the author.