Self Publishing recent titles
FERTILITY SOCIETY OF AUSTRALIA
A History
Douglas M Saunders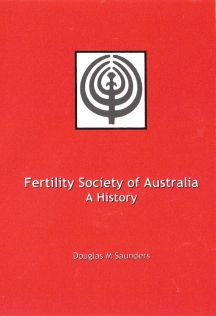 Since its foundation in 1982, the Fertility Society of Australia (FSA) has been central to the development and success of the IVF (In Vitro Fertilization) program in Australia.
From the World's first successful IVF birth in 1978 in England, and, the first in Australia in 1980 in Victoria (the third worldwide), the IVF program has moved from strength to strength, helping infertile couples achieve a family.
Now in its 31st year, this history of the FSA is a collection of 'conversations' - contributions on many aspects of the FSA story, recorded by many of the people involved in the development of IVF at all levels: from research scientists, medical specialists, and dedicated nurses, to the counsellors, technicians and staff providing the essential administrative support.
Edited and published in 2013 by Douglas M Saunders.
Professor Douglas Saunders, AM MD BS FRANZCOG FRCOG FRACS, established the first Department of Obstetrics and Gynaecology at Sydney's Royal North Shore Hospital for The University of Sydney, and the first specialized Fertility Clinic at RNSH. This clinic achieved the first IVF pregnancy in NSW in 1982, and is one of the most successful in Australia. He is one of the founders of the Fertility Society of Australia.
107 pages, with many photographs in colour

To mark the Society's 30th year in 2012

RR Price: $35.00

Enquiries: Contact Us via the Contacts link

All enquiries are referred to the author.