Self Publishing recent titles
Feet on the Ground
An Autobiographical Novel by Minnie Agnes Filson - Rickety Kate Written in the 1940s; Published in 2008 by her granddaughter, Lenore Bassan.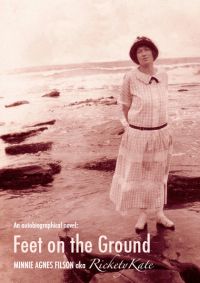 Rickety Kate was a popular Australian poet whose work was published in newspapers, anthologies and school textbooks and broadcast on the radio, from the 1930s through to the 1960s.
Minnie Filson's assumed name of Rickety Kate concealed her personal circumstances: she had become totally immobilized by rheumatoid arthritis, contracted in her early twenties after the birth of her only son. Completely dependent on her family for her physical care, she was surrounded by many good friends, readers and scribes, who recorded her work for over 40 years. Those fortunate to have known her were inspired by her wit and imagination.
Feet on the Ground is her previously unpublished, autobiographical novel. It was written during the 1940s about an earlier period in her life when her illness reached its toxic peak.
Given less than 48 hours to live by Western medicine, she encountered an Indian healer, displaced by the Depression and looking for work as a gardener. He applied his healing skills and saved her life.
This meeting of East and West in leafy, pre-war Mosman in Sydney, recalls a time when attitudes, encouraged through the White Australia Policy, jostled with more enlightened perspectives.
Her story is one of loss, courage and ultimately hope. The main characters strive towards a mutual respect, a deeper understanding and an Australia where the vision splendid can be shared by all.
A Paperback of 208 pages.
RRP $25.00
A warm, funny and inspring story which will leave you in awe of this wonderful woman. 14 of her poems are included in the book.
Copies available through

Lenore Bassan
PO Box 3303 Marrickville Metro NSW 2204
Email: lbassan1@vtown.com.au