Self Publishing recent titles
THE DUFFY FAMILY IN AUSTRALIA
1881 - 2014
A Family History
by Kevin Duffy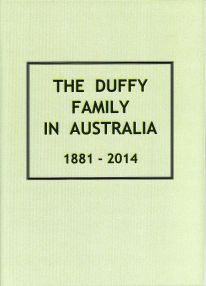 This family history was published in 2014, updated from an early history published in 1999, to celebrate the Duffy family story on the occasion of the 60th wedding anniversary of Kevin and Margaret Duffy in February 2014.
Includes Dream Catchers: Margaret's recollections.
Published privately in 2014. 60 pages, with photographs, family charts

Enquiries: Contact Us via the Contacts link

All enquiries are referred to the author.