Self Publishing recent titles
OUT TO BAT
The Life, Times and Ancestry of William Blair Douglass
A Memoir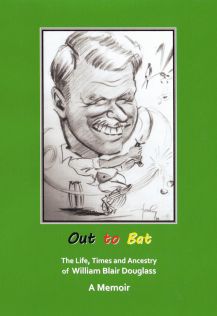 A tale of a life well-lived and well-played. The scion of a successful business family in Sydney, WB Douglass (WBD) was born in 1929and, after training in Accountancy and the family business, he took the "Tour" around Europe and to the USA in 1951, combined the joys of travel with expanding his business experience.
WBD returned to Australia and took up the reins of the family businesses. He married twice and enjoys his five children and six grandchildren.
However, WBD's great passion has always been for the game of cricket. In 1946, he joined I Zingari, an English and Australian amateur cricket club (founded in 1888), and remains an active member.
WBD concludes with tales of his travels with his wife, Gail, after his retirement from the family business. A separate section outlines his Douglass ancestry, with a family chart.
Published privately in 2013.
220 pages, with photographs.

Price: $30.00 plus P&P within Australia

Enquiries: Contact Us via the Contacts link

All enquiries are referred to the author.