Self Publishing recent titles
WITH ONLY THE SKY AS A BLANKET
The War Diary of Ernest Danforth
Compiled by Carol Thomas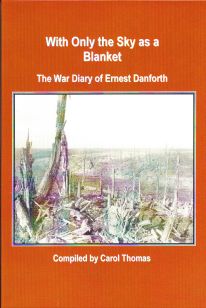 In 1915, Ernest Danforth, a Yorkshire miner, heads off to 'do his bit' for the country in one of Lord Kitchener's Pals Battalions. Swapping the darkness of the mines for the sun-drenched sand of Egypt, and then the mud of the Somme, he and his fellow Pals find themselves in a dour struggle for survival. We take a journey on an emotional roller coaster as we follow Ern and his Battalion from his enlistment to the end of the War.
Published privately in 2013. 94 pages, with photographs.

ISBN: 978-0-992 3502-0-8

Enquiries: Contact Us via the Contacts link

All enquiries are referred to the author.