Self Publishing recent titles
By Any Criterion
The history of Rockhampton's Premier Department Store 1862-1986 – Published 2007
Received a Special Award in the Queensland Family History Society's Family History Book Award 2008
Highly Commended, Governor's National Trust Heritage Awards 2010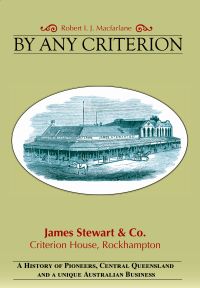 The History of JAMES STEWART & Co., Rockhampton's premier Department Store.
From its beginnings in December 1862 as Stewart & Hemmant, the store's history is synonymous with the establishment and growth of the City of Rockhampton. Still operating today, it is thought to be Australia's second oldest Department Store still trading (after David Jones Ltd, established in 1838 in Sydney).
Initially established by Alexander Stewart and William Hemmant in Brisbane in March 1860, the Rockhampton business opened in 1862 and expanded to Townsville and Ravenswood in the 1870s. The business was moulded into a family firm when James Stewart invited his brother-in-law, Robert Macfarlane, to join him. Robert was the first of five generations of the Macfarlane family to work there.
Established as Criterion House, on the corner of East & Denham Streets, the business on `The Corner Block´ had exploded by the 1880s, making locally, the clothing, furniture and bedding that otherwise had to be imported. This venture saw the number of employees rise to over 300 making it the largest firm in Queensland outside Brisbane, with the firm's Commercial Travellers, male and female, travelling on horseback across the outback from railheads and along Cobb & Co routes. This book includes detailed staff records, and many photographs and related images.
This is Australian history. More importantly, it is Rockhampton's history - a story which needed to be told before it is forever lost in the mists of time.
800+ pages in hardcover. Written by descendant, Robert I J Macfarlane in 2006 and published through CREMORNE1.COM Self-Publishing.
Copies available through

Rob Macfarlane - statue@iinet.net.au