Self Publishing recent titles
FIELDS OF ENDEAVOUR
A History of the Cole Family 1746-2015
by Terence Cole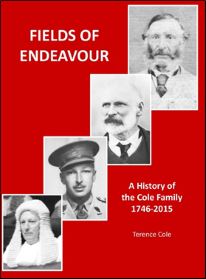 From 1746 in Sligo on the West Coast of Ireland, to 2015 in Sydney, Australia, Fields of Endeavour traces the history of the Cole family, tenant farmers at Carrickhenry, who struggled through the Potato Famine, and then separated, with one of the family deciding to sail to the New World in 1850 in search of a new and better life. Having lost a child during the famine, William Cole, his wife Jane, and two infant children, survived a four-month voyage arriving in Sydney with nothing more than a sense of determination. In the intervening 165 years, four generations of the family have produced farmers, a saddler who became a Town Clerk, an educationalist, many teachers, nurses, a secretary, tradesmen, soldiers, a banker, a lawyer and, in the current generation an architect, an engineer, an actress and a photographer.
This book tells of their lives - their challenges, their difficulties, their endeavours and their achievements.
ISBN: 978-0-646-94893-5

Published in hardcover in 2015. 275 pages, with photographs and family charts.

Price: $65.00 plus P&P within Australia

Enquiries: Contact Us via the Contacts link

All enquiries are referred to the author.