Self Publishing recent titles
MORRIS CHARLES DOWNES COCK
1888-1948
A BIOGRAPHY
by David Alan Downes Patrick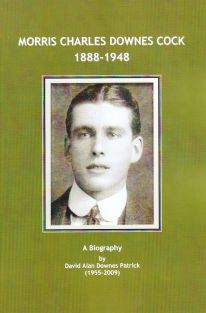 The life story of Morris Charles Downes COCK with information about his grandfather, John Cock the younger (1831-1894), his father Morris Fisher Cock (1856-1924), and his mother, Mary Ann Hester Downes (1859-1901). This book tells the story of his youth in England, and his immigration to Australia in 1910, his marriage, his service in the First World War, including on Gallipoli, and his life post-war.
Written by his grandson, David Alan Downes Patrick (1955-2009) with assistance from the extraordinary collection of family papers preserved so carefully by his mother, Helen Patrick, and his aunt, Marion Fry, and using additional material from Jennifer Matthews.
Published privately in David's memory in 2013.
83 pages, with photographs.

Enquiries: Contact Us via the Contacts link

All enquiries are referred to the author.