Self Publishing recent titles
CELEBRATION
The Broadbridge-Heiler Family 1700 - 2011
A Family History by W.H. Broadbridge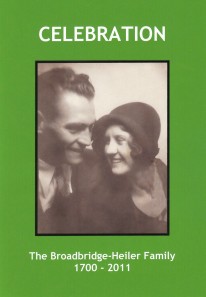 The year 2011 marks the 100th anniversary of the birth of my parents, my father in April at Broken Hill and my mother in October at Boggabri (both in New South Wales).
In their memory and so that my children and grand-children will know and value their heritage, I have recorded the research to date into our ancestry. It is a story of very humble roots yet considerable achievement and certainly a typical Australian mixture of religion and origin.
Published privately in paperback in 2012 for the interest and enjoyment of the family - the children, grand-children and great grand-children of William Henry BROADBRIDGE (William IV) (1911-1988) and Irene Edna BROADBRIDGE nee HEILER (1911-2005).
155 pages, with portraits, maps and family charts.

THIS BOOK IS NOT AVAILABLE FOR SALE.