Self Publishing recent titles
A DREAM CALLED CANGAI
A tale of a town and its people
By Margaret Neyle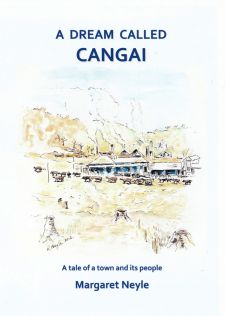 If today you look at the Gwydir Highway on a map, running from South Grafton to Glen Innes, just past Jackadgery you will see a dot that says Cangai. If you turn off to investigate, you will see a beautiful valley but no town. This book is the detailed history of Cangai, the town that once existed in that beautiful valley.
The book starts with the Gumbaingerra people who roamed the area prior to the coming of the white men, then recalls the wealthy English pastoralists who came and went, and later the miners and the speculators, when in the 1860s first gold and then copper were discovered.
It is also the story of a vibrant community, of the men and women who made the town a home for their families, of the miners who formed unions and fought for better conditions and pay, and the men who battled to transport food and mail to this isolated community.
Many families who now live in the Clarence Valley can trace their roots back to Cangai pioneers.
Published privately in 2013
77 pages, with photographs.

Price: $20.00 plus P&P within Australia

Enquiries: Contact Us via the Contacts link

All enquiries are referred to the author.