Self Publishing recent titles
ROAD FROM MANDALAY
A Memoir of Life in Burma in the 1930's & 1940's
by Adeline Hamilton-Fowle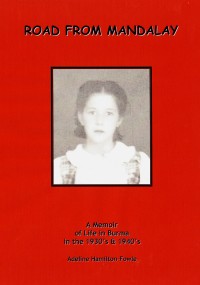 Adeline was born in Burma in 1927, the daughter of a German-Burmese mother, and an English father, a British Army Officer in the Raj who became a big-game hunter.
She tells the story of her privileged life under the Raj, which turned into a nightmare with the arrival of the Japanese Army during World War 2. She graphically depicts the changes to Burmese life, the horrors of life and death in the Japanese camp, and how she survived.
This book was written in fulfilment of Adeline's promise to her eldest son to record her memories of those years in Burma, for her grandchildren.
A graphic account, published privately in November 2010.

160 pages, with photographs

Paperback - Price $40.00

Enquiries: Contact Us via the Contacts link above