Self Publishing recent titles
MY STORY
An Account of the Life of Myself and my Family
A Memoir by John F.S. Browne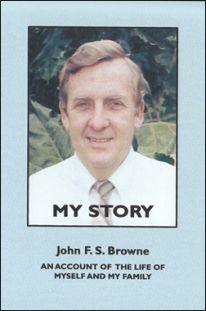 A memoir of my life and family, my career with Bayer, and my travels, for both business and pleasure.
Includes family charts and family history of my children&s ancestors in the Browne, Stratford and Crawford families.
ISBN: 978-0-9876108-0-5

Published in 2014. 173 pages, with photographs.

Price: $20.00 plus P&P within Australia

Enquiries: Contact Us via the Contacts link

All enquiries are referred to the author.