Self Publishing recent titles
THE ADVENTURES OF SERJEANT THOMAS BRICKLEY AND THE FOUNDING OF A FAMILY
A Family History
by Julia R. Kable
Published in 2012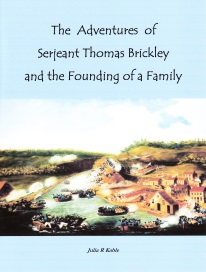 Curiosity about family origins and detective work have revealed the truth behind family stories of a distinguished soldier in an earlier generation of the family. This book records much of what can be known about Serjeant Thomas Brickley of the 49th Regiment of Foot, born 1793, who was a highly respected member of his Regiment and, for his times, a world traveller.
His introduction to army life was dramatic, finding himself posted to Canada and facing off against American forces intent on capturing land now within Canada. He particularly distinguished himself in the Battle of Queenston on 13 October 1812, the bicentenary of which decisive battle is celebrated in 2012.
From humble beginnings, he rapidly rose through the ranks to become a Serjeant at the age of nineteen years and, subsequently, a Colour Serjeant.
This is his story. It is also the story, told more briefly, of his family life and some of his descendants through his son, William.
Family names include: Angus, Bailey, Bascand, Beattie, Bennett, Berryman, Biggs, Binns/Binsken, Blackwell, Bolt, Buckley, Bune,Bryant, Cobcroft, Cook, Davis, De'ott, Dickson, Donaghue, Dunbar, Edmondson, Ferguson, Ford, Fripp, Heaton, Hendry, Henry, Innes, Inwood, Irvine, Jansson, Kable, Lewis, Liddell, Macindoe, Marshall, McCormick, McGregor,. McKenzie, Menzies, Milroy, Miners, Morrison, Munro, O;Meagher, Russell, Scobell, Thornthwaite, Turnbull, Walker, Walters, Wark, Weedon, Williams, Younger
This family history was published privately in 2012, primarily for descendants of the Brickley family.
68 pages, with portraits, maps and family charts. Bibliography & Index.

Price: $27.00 incl. P&P within Australia

Enquiries: Contact Us via the Contacts link

All enquiries are referred to the author.