Self Publishing recent titles
Bear Wants to know
by Donna Gibbs
Illustrations by Janet Trotta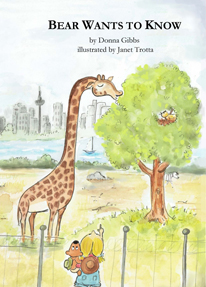 Harriet has a Bear who asks lots of questions. She invents a game to play with her family so she and Bear can find the answers together. When Harriet changes the rules, she finds she has an important question to answer.
A story for children
ISBN: 978-0-9945628-2-1

Published in paperback in 2016. 31 pages, with full colour illustrations.

Price: $20.00 plus P&P

Enquiries: Contact Us via the Contacts link

All enquiries are referred to the author.