Self Publishing recent titles
A CROSSING FROM BANBURY
The First Four Generations of the Mascord Family in Australia
Joan Margaret Adams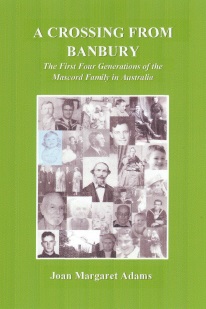 This meticulously researched family history tells the story of the first four generations of this family who migrated to NSW from England in 1846, with the known stories of many individual descendants.
The family first settled in in the Parish of St George (later Rockdale) where they established successful market gardens and watched the area expand. In the next generation, some family members moved to the Illawarra and the Lake Macquarie areas.
Now in its eighth generation in Australia, family members live in many parts of eastern Australia.
The Mascord women in the later generations married into these family names, listed alphabetically:
Adams, Anderson, Barzyk, Bastable, Beaber, Beck, Bell, Benson, Bourke, Burrows, Caisley, Cameron-Smith, Champion, Cobcroft, Cook, Cowling, Cowmeadow, Cox, Davis, Duffy, Eckersley, Field, Francis, Freeborn, French, Gartside, Gleeson, Goodridge, Granter, Greenbank, Greentree, Hampson, Hanlon, Hodgkinson, Holt, Jones, Lay, Lloyd, McInnis, Mullens, Murphy, O'Reilly, Owen, Patterson, Pennock, Philpott, Phillips, Pople, Purvis, Reynolds, Richards, Ross, Rundle, Sainty/Stapleton, Sampson, Schofield, Scott, Secomb, Simmons, Smith, Speechley, Sperring, Spinks, Tent, Thomas, Tracey, Vincent, Walton, Wilkinson, Williams
Published in 2015 for the family.

295 pages, with photographs and family chart.

ISBN: 978-0-6469316-5-4

Price: $25.00 plus P&P within Australia

Enquiries: Contact Us via the Contacts link above

All enquiries are referred to the author.