Self Publishing recent titles
A GOOD LIFE
IN FOUR CONTINENTS
A Memoir
by Ramachandra Balasuperamaniam (Bala)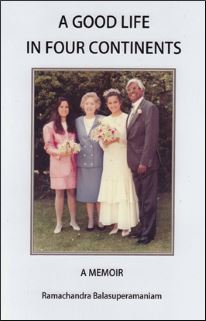 Born in 1932, Bala tells the story of his life growing up in the north of Ceylon, as part of a middle-class Tamil family. He trained as a Surveyor, and travelling to England in 1956 to further his career. There he met and married Barbara, an English girl, and a recent graduate from Cambridge University.
Bala established his career in England, before taking positions in Tanzania and Ghana in Africa. He later returned to work in Ceylon/ Sri Lanka where he became involved in arbitration and dispute resolution.
Bala also tells of his involvement at a senior level with the World Badminton Federation, in England, Africa and China between 1960 and 1981.
The family later immigrated to Australia, where the grandchildren were born and the family remains.
ISBN: 978-0-646-94161-5

Published in 2015. 238 pages, with colour photographs.

Price: $45.00 plus P&P.

Enquiries: Contact Us via the Contacts link

All enquiries are referred to the author.