Family History Publications
TASMANIA BOUND: Weymouth, Hubbard, Harris & McPhail family stories
By Margaret Szalay & Andrew James Jones (ISBN 0–9752248–2–4 - published 2004)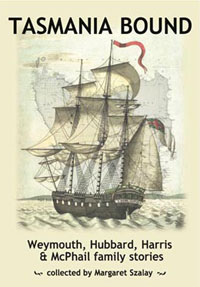 This Australian family history traces the known descendants and stories of these four Tasmanian families, free settlers who sailed to the then penal colony of Van Diemen's Land, whose children intermarried in the 1800s.
The first arrivals were:
William Weymouth from Portsea & Devon, England – A surgeon, he arrived with his wife and large family in 1835, as surgeon-superintendent on the female immigration ship, Charles Kerr (pictured on the cover), and settled in Launceston.
George Hubbard from Deal, Kent - Initially a convict to Port Jackson, George came to VDL as a free man with his wife and child in 1818, to take up his appointment by Governor Lachlan Macquarie, as government boat builder at Port Dalrymple. His daughter, Catherine, married William Weymouth Jnr.
Robert Harris from London – After immigrated to South Australia in 1839, with his brother, Samuel, a surgeon and druggist who later settled in Sydney, Robert came to Van Diemen's Land c.1841 where he met and married Clara Weymouth, a daughter of Dr William Weymouth.
Alexander McPhail born in India in 1842 – On the death of his father with the British Army in India, as a child, he travelled with his mother to England and then to Van Diemen's Land in 1851. Alexander married two of the Harris daughters.
Published in Hardcover in 2004
480 pages of stories, family trees and images for all families, fully indexed with bibliography and appendices of additional information
Enquiries via the Contacts link above
Cost $65.00 each + postage
Click on the Research Interests link for information on other family lines which are part of Margaret's personal research interests.