Family History Publications
TASMANIA BOUND 2: Weymouth & Harris Family Albums 1830 - 1950
Collected by Margaret Szalay (ISBN: 978-0-9752248-5-4)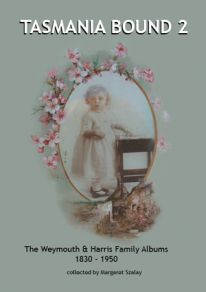 A sequel to the family history:
TASMANIA BOUND: The Weymouth, Hubbard, Harris & McPhail family stories
this second volume is of the Family Albums, a collection of all of the available family portraits for the Weymouth and Harris families to conserve them for future generations.
The 2004 family history told the stories of four Tasmanian families, free settlers to Van Diemen's Land (Tasmania), whose children intermarried in the 1800s. No new portraits or information have come to light for the Hubbard and McPhail families at this time.
This sequel, TASMANIA BOUND 2, includes updated Family Trees and over 600 portraits and other images - those from the 2004 family history, enlarged here, plus others from family collections which have come to light since publication of the first book, including the family of Samuel Harris in NSW. The custodians of the collections are acknowledged in the book. Considerable new information has also been added to the Weymouth and Harris Family Trees and these updated Trees are included in this volume.
Images of the Weymouth ancestral home in Devon, Snapes Manor and other family properties in South Devon, taken in 2008, are included in the Devon Photo Album at the beginning of the book.
FULLY INDEXED
392 pages in Paperback, with over 600 portraits and other images and updated Family Trees.
Published in 2008
ALL COPIES SOLD
Copies of this book are held in the following six libraries: National Library of Australia (Canberra), State Library of NSW, State Library of Tasmania (in both Hobart and Launceston), Society of Australian Genealogists (Sydney), Maitland Local Library (NSW).
Click on the Research Interests link for information on other family lines which are part of Margaret's personal research interests.