Family History Publications
MEMOIRS OF A BRIZZIE GIRL
Margaret Szalay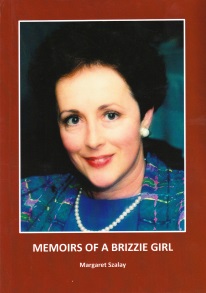 Margaret's memories of growing up in Brisbane after World War II, an early 'baby-boomer', the daughter of an RAAF navigator who had served with Bomber Command in England during the War.
With a strict Catholic father, Margaret's life was very conventional – education in local Convent schools, then to Teachers College which offered the security of a lifelong career.
But after three years teaching, Margaret decided this was not for her, and put herself through University majoring in Economics, after which she moved to Sydney - a new beginning.
Sydney lead to interesting career opportunities, an 11-year marriage, two wonderful children, divorce and an enjoyable life as a single girl, with good friends.
Early retirement in 2005 was another beginning: campervan adventures, travel, seeing both my children married, and visiting them when they moved overseas. Life goes on.
Published privately in 2015.

174 pages, with photographs.

ALL COPIES DISTRIBUTED TO THE FAMILY.