Family History Publications
LIMERICK TO QUEENSLAND: The Kearney Family Story
Awarded Second Place in 2007 QFHS Family History Book Award
By Margaret Szalay & Mary Graham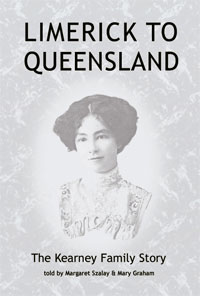 The Kearney Family Story traces the journey in the early 1860s of John Martin & Honorah Kearney and their large family, from the Abington area of County Limerick, Ireland, to Rockhampton in the newly separated colony of Queensland, and tells the stories of the generations which followed.
These were the early years of the colony after separation from New South Wales in 1859, and mining and railway construction was the primary focus for the new government. Still a frontier, physical strength and a degree of enterprise were the qualities that counted …… and Irish women in the colony exhibited a marked degree of enterprise.
The Kearney story is bound together by the stories of the Kearney women - wives and daughters.  In the early years, the Kearney men died young, leaving their women to endure in this new land and raise their families – perforce, the women were the backbone of the family, supporting each other and keeping the family together.
Set against the background of the early development of Central & North Queensland, this is their story.
This family history was researched, written & published by cousins, Margaret Szalay and Mary Graham, descended from the eldest son of John Martin & Honorah Kearney.
Published in Hardcover in 2006
240 pages of stories, family trees and images, fully indexed with bibliography and appendices of additional information
Enquiries via the Contacts link above
Cost $50.00 each + postage
Click on the Research Interests link for information on other family lines which are part of Margaret's personal research interests.