Family History Publications
JACK: The Life & Times of JDK Schmidt
by Margaret Szalay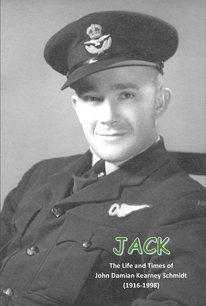 Jack was born in 1916, in the middle of the First World War, in the country town of Beaudesert in SE Queensland, just 70kms south of Brisbane; his father was of German Lutheran ancestry and his mother, Irish Catholic – a common mix in Queensland at that time.
Jack and his two younger brothers, George and Peter, had a strict Catholic upbringing in the Irish tradition, and attended Nudgee College in Brisbane as boarders through the Depression years. All three boys went on to the University of Queensland. Jack and George dropped out before the War, but Peter completed his degree in Medicine during the War years, a protected occupation.
Jack and George joined up on the outbreak of World War II, serving in the RAAF and AIF. George went to New Guinea in the war with Japan, and Jack to England to fight his war with the RAF's Bomber Command over France and Germany – experiences which left their mark on both brothers, physically and mentally.
Jack would have celebrated his 100th birthday in 2016. This is his story.
Published privately in Paperback in 2017
165 pages of his life story and his RAAF log books and memorabilia
Enquiries via the Contacts link above
Click on the Research Interests link for information on other family lines which are part of Margaret's personal research interests.